ANTIQUE TRACTORS
(sell at 12:00 noon)
- 1936 JD A, full factory spokes, new 12.4-36 Firestone tires, new 5.50-16 front cloth shutter, restored. S#439274.

- 1937 JD A, full factory spokes, new 11.2-36 Firestone tires, new 5.50-16 Armstrong front tires, cloth shutter, restored S#451639.

- 1939 JD Styled A, new 12.4-36 tires, new 6.00-15 front, Power-Trol, restored. S#483951.

- 1936 JD B short beam full factory spokes, new 9.5-36 tires, 5.00-15 front, unrestored S#21205.

- 1939 JD Styled B full factory steel wheels with lugs, restored, S#77716.

- 1952 JD G electric start, 13.6-38 Goodyear tires, Power-Trol, original unrestored. S#662450.

- 1955 JD 50 N.F., No. 3pt., repainted, S#5028645.

- 1954 JD 60 N.F., No 3pt., original paint, S#6032037.

- 1960 JD 630 N.F., 3 pt., 13.6/12-38 New Tires fenders, nicely restored.

- 1954 Leyland 154 (G) Fenders P.S., differential lock, unrestored.

- Oliver Super 66 N.F., repainted, S# 20-360-606

- AC WD W.F., fenders snap coupler, unrestored. S#D177460.

- JD B styled, repainted

- JD A unrestored

- Farmall H 11.2-38 like new tires, new front tires, set rear weights, belt pulley, S#203851, Restored.

- AC WD 45 with loader

- AC WC N.F., rear spoke wheels, fenders, unrestored. WC 107-145.

- Massey Harris 44 Standard, Restored

- Int. 460, N.F., Not running

- AC WD N.F., fenders, unrestored.

- AC D-14, WF, 3 pt., fenders.

- Ford 8N 6cyl., rear weights.

- 1948 Int. W-4, S#21808.

- Massy Harris 33 P.S., wide front, electronic ignition, 3 pt., 12 volt system, hand clutch.

- IH 350 utility, sells with pipe single cylinder hyd. bucket loader.

- Farmall 460 Row Crop.

Also selling new set of Harvest King 11.2-38 Tires and other related items.

COMPACT TRACTORS

- JD 2520, Sells w/loader, 62" drive over deck, 485 hours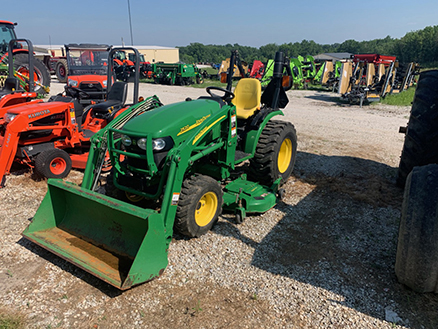 - Kubota BX2230, Sells w/ loader,RCK60" deck, 1038 hours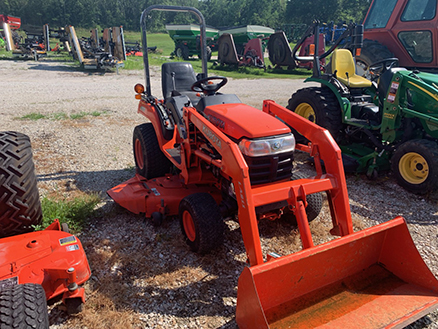 - Kubota B7300, RCK 60" deck, 660 hours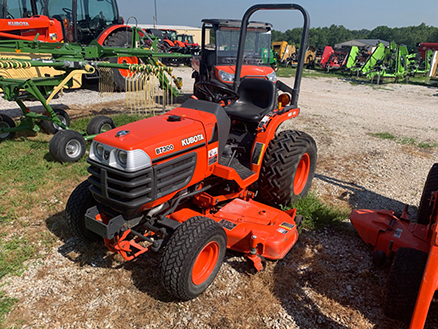 SNAP ON TOOL CHEST, TOOLS, METERS, SNAP ON COLLECTIBLES

From The Late Larry Weilbrenner Family
Snap-On Dealer for 43 years

Note: LARGE SALE, 6 wagon loads of smalls from the Weilbrenner Family of Snap-On items plus 3 additional shop/ tool related wagons consigned by others.

New Collector Series 40th Anniversary Corvette tool chest, sells complete with 7 drawer hang on side box; as new 65th Anniversary showcase tool chest Premier Edition; Large top box: NIB overhead shelf / storage; few hang on for tool boxes; recycling center model 3340; NIB heavy duty engine stand; new Corvette and 57 Chevy floor creepers and several other new and used floor creepers; Diesel timing meter; Tack Dwell; voltage diagnostic; timing lights; misc. AC tools and pumps; grinders; few air tools; pullers; lights; 15 ton bottle jack; Porta Power; assorted wrenches, (2) hammers, used screw driver sets, tap and die set; 8" bnech grinder; pliers; torque wrenches and misc other Snap On related items.

Selection of collectible Snap-On NIB race cars Dale Earnhardt Jr, Kevin Harvick, etc.; NIB choppers; Snap On gum ball machine, steins, coolers, shirts, clock, helmet, mini tool boxes.
AUCTIONEER'S NOTE: VERY LARGE AUCTION! Make plans to attend!, lunch avaliable by The Scotland County Antique Fair, Terms cash or check with proper ID. Not responsible in case of accident or theft. Announcements made sale day take precedence over any advertisement. The above information is believed to be accurate; however, no liability for its accuracy, errors or omissions are assumed by the seller or auction service.
McAfee / Hayes Auction Service, LLC