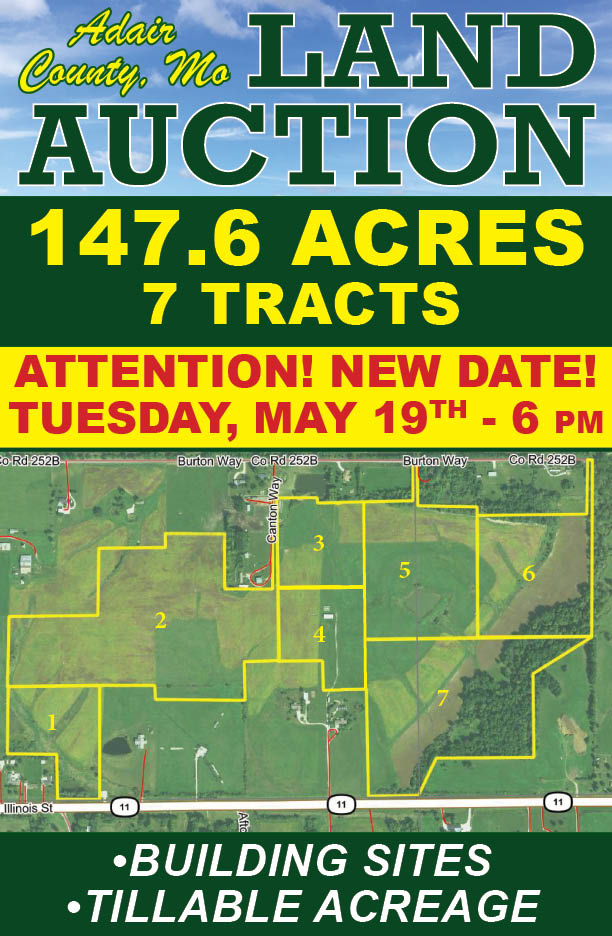 LAND AUCTION
147.4 SURVEYED ACRES
7 TRACTS/ ADAIR CO. MO


NOTICE
This sale will be POSTPONED. Check our website for rescheduled date or contact our office to receive notification of reschedule date

Selling 147.4 Acres of Land offered in attractive small tracts located just East of Kirksville,MO along Hwy 11. Tracts feature open tillable and grass land, 2 Tracts with a portion of woods, 1 Tract with a pole building w/ cement floor, water and Electic. Excellent Investment Oppurtunity For Residential Building Sites Close To Town.

Lying in Sect.1 & 2, Twp. 62N, R15W, Adair County, MO.

Surveyed Acres

Tract 1- 11.3 acres
Tract 2- 42.6 acres
Tract 3- 11 acres
Tract 4- 12.8 acres
Tract 5- 18.8 acres
Tract 6- 19.1 acres
Tract 7- 31.8 acres


Robert Caviness, Seller

Pickell Abstract., Closing Agent

Sale conducted at the Days Inn,located 3805 S. Baltimore St., Kirksville, MO.