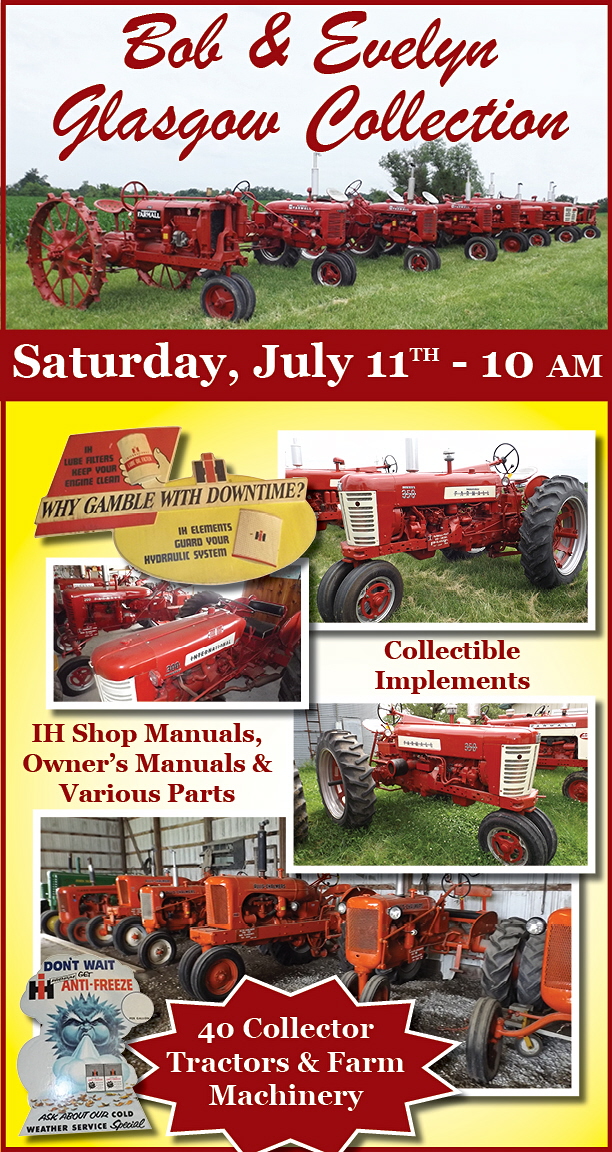 ADVANCED NOTICE

40 ANTIQUE TRACTORS,
COLLECTIBLE EQUIPMENT,LITERATURE
AND
FARM MACHINERY AUCTION

The Glasgows owned and operated an IH dealership from 1961-1978 North of Edina, MO. Bob's interest in IH tractors continued well past the selling of the dealership and he began collecting and restoring IH tractors as well as other antique tractors in the buildings he started the dealership in. Along with his collection of tractors, they will sell various IH collectible equipment, remaining shop manuals and literature, few signs and other IH advertisement items. Also selling will be various pieces of farm machinery to include: IH 1460 combine, K2 Gleaner combine, grain heads, hay equipment and misc. tillage equip. Make plans to attend this large absolute auction and watch our website for complete listing and photos closer to sale date.


IH Tractors:
3588, 856D, 806D, 706, 506D, 460, 450D, B414D, 350D, 350, 300, I300U, 240, 230, 200, (2)140, 100, Super M, M, (2)Super H, (2)H, (2)Super C, C, B, A, F-20, F-12.

Allis Chalmers Tractors:
WC, WD45, WD, B, C, CA.

JD Tractors:
MT, A.

CASE tractor:
SO.


Bob and Evelyn Glasgow Collection

Check back for details!