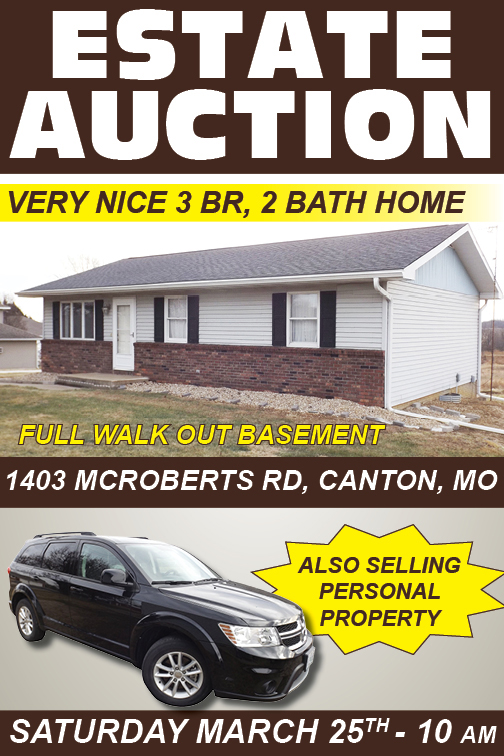 REAL ESTATE AND PERSONAL PROPERTY
ESTATE AUCTION

Selling a very nice 3 bedroom, 2 bath, move in ready home
with full walk out basement.

Located at 1403 McRoberts Rd., Canton, MO

SOLD $78,000

2014 Dodge Journey STX only 22,105 one owner miles 14,750

Also selling: Lawn equipment, quality household items, Sewing related items, Collectibles, and a large Amount of new Lady's apparel,30 pair size 6.5 new Nike shoes and several other name brand shoes sizes 6. 6.5 & 7, 50 plus "NEW" Coach & 50 plus "NEW" Fossil purses and hand clutches,various other name brand purses such as: Dooney & Bourke,Brahmin,Calvin Klein etc... 100's of sssorted new hand bags to include: Thirty One, Nike, Adidas etc..., Various new rolls of Fleece pet pattern material,Pet blankets & beds, New towels and bedding, and Various Other New Items.



Estate of Debra S. Brunk

Brett Bozarth, Representing Attorney

Sale conducted at the Caldwell Building located 1 1/2 Mile West of Canton, MO on Hwy. 16.