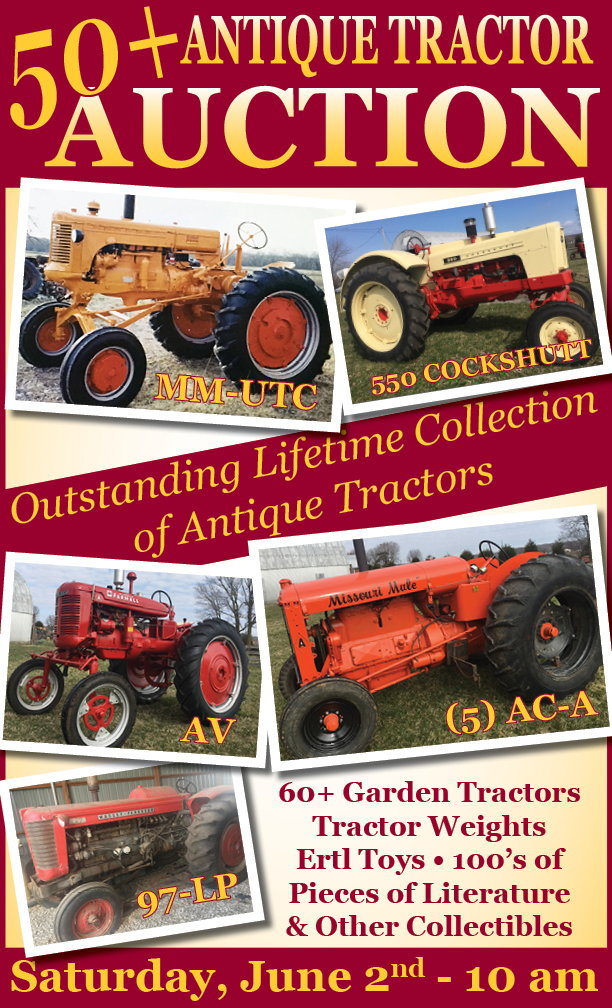 50+ ANTIQUE TRACTORS, 60+ GARDEN TRACTORS,
TRACTOR WEIGHTS, TOYS, LITERATURE
AND COLLECTIBLES AUCTION

Make plans now to attend this outstanding lifetime collection of antique tractors, parts tractors, Ertl toys, 100's of pieces of literature and other collectibles.

Highlights include:

(5) Allis Chalmers A tractors

Minneapolis Moline UTC High Crop

Farmall VA High Crop

IHC OS6

Cockshutt 550

Massy Ferguson 97 Propane

JD: A, AN, B, M, D, 520

McCormick Deering WK-40

CASE L & LA; MM GB; and the list goes on!

Int. T-9 ; Cat D-2; IH T340; AC K Crawlers

GARDEN TRACTORS: Amigo, AC, CASE, Cub, Bolens, Gibson, JD, N.H., Panzer, M.F. etc.

Also selling 100's of various makes and styles of front and rear weights and other related items.




Calvin and Haydelisa Meier, Sellers



Wayland, MO