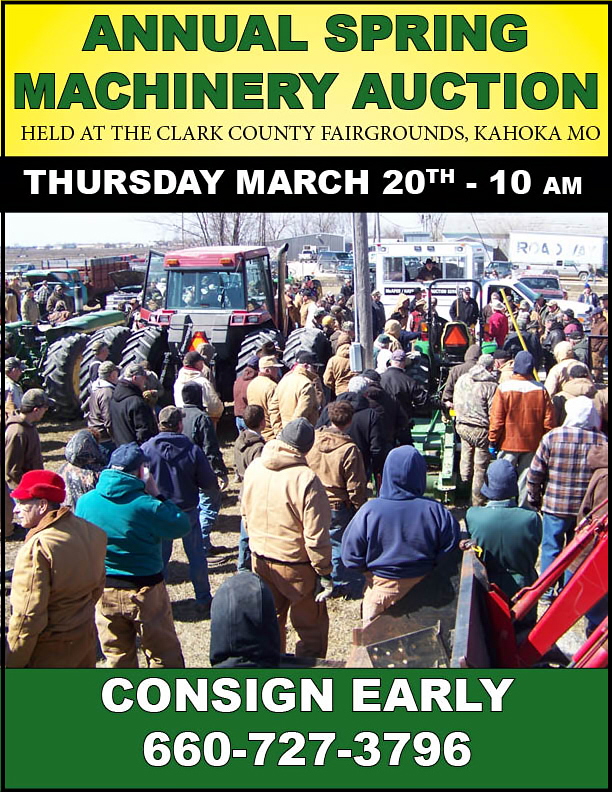 Call today to include your items in our
extensive advertisement campaign!

Office: 660-727-3796
Monty: 660-341-7412
Kirk: 573-406-5389


ANNUAL SPRING
MACHINERY AUCTION
Held at the
Clark County Fairgrounds
Kahoka, MO.


Check In Dates

Tues. March 11th 9-12noon
Wed. March 12th 9-12noon
Thurs. March 13th 9am-5pm
Fri. March 14th 9am-5pm
Sat. March 15th 9am-5pm
Sunday March 18th- Viewing Only
Mon. March 17th 9am-5pm
Tues. March 18th 9am-5pm
NO CONSIGNMENTS ACCEPTED AFTER 5pm MARCH 18th.

Wed. March 19th Preview Only

Thurs. SALE DAY, gate opens at 7am, Sale starts at 10am.
Loading assistance available following sale!

Fri. March 21st Loading Assistance 9am-4pm
Sat. March 22nd Loading Assistance 9am-4pm
Monday -Friday Loading assistance by Appointment Only.
Call 660-727-3796

All Items Must Be Removed By Fri. March 28th by 12noon.

Selling: Tractors, Trucks, Autos, Trailers,
Tillage and Planting Equip.,
Misc. Farm Equip, Construction Equip.,
ATV's, Lawn and Garden Equip.,
Livestock and Farm Related.