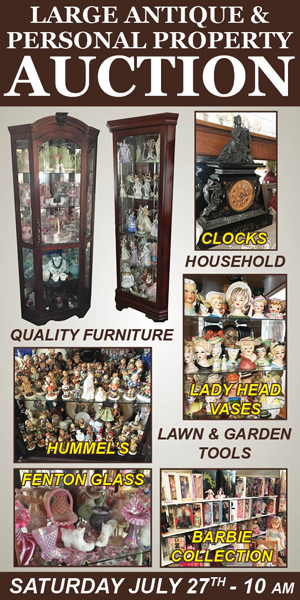 LARGE ANTIQUE
AND
PERSONAL PROPERTY AUCTION



Selling a massive lifetime collection of quality Items to include: Large Collection of Fenton Glass, Lady Head Vases, Quality H.P. China, Collection of Hummel's,Quality Figurines, Clocks, Collection of Barbie's, Toys, Quality Antique and Modern Furniture, Curio Cabinets, Lawn and Garden equip, Tools and woodworking equip., Common Kitchen and Household Items.


Leroy and the late Mary Collier, sellers



Sale Conducted at the Caldwell building, Canton, MO

PHOTOS ONLINE!

Check back for details

The Collier's home is listed with our Real Estate division but will not be avaliable for showing until OPEN HOUSE Thursday August 1st 5pm -7pm, contact Deanne Whiston @ 660-341-7276 with any additional questions in reguards to the real estate.