TIMED ONLINE ONLY

2 DAY
COMPLETE
FARMER RETIREMENT
AUCTION


DAY 1: Selling an EXCEPTIONAL COMPLETE LINE OF EQUIPMENT to include: 13 JD Tractors, 3 JD combines & Heads, Grain handling Equip., Tillage Equip., Planting Equip., Semis, Trailers, Trucks, Autos, RTV, Forklifts, Dozer, Track Hoe, Skid Steer & Attachments, Rotary Cutters, Ditchers, Misc. Equip.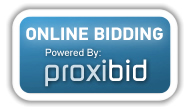 BID NOW!



KEITH & SUE LOGSDON, SELLER



Preview Starts: Friday November 26th 9a.m.- 5 p.m. Daily

Location: 34650 Hwy M Williamstown, MO.

Load Out Dates: No Loading out Days of Sale.
Cashier on site & load out.
Thurs. Dec. 16th, Fri. Dec. 17th 9 a.m.- 4 p.m.
and Sat. Dec. 18th 9 a.m. Noon.


Click on Proxibid link for details & terms