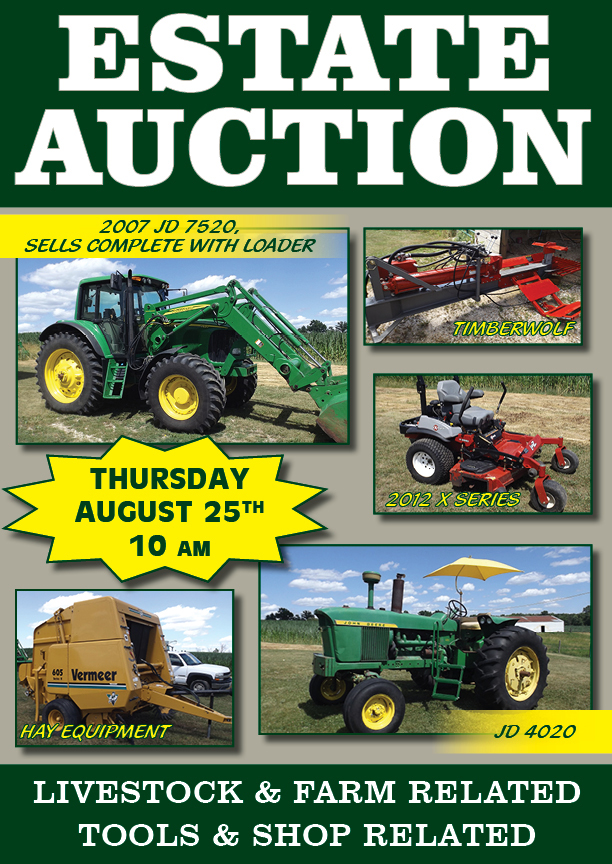 ESTATE AUCTION
OF
FARM MACHINERY,
TOOLS, SHOP RELATED
LIVESTOCK AND FARM RELATED

2007 JD 7520, 4WD, 20/20spd. 150hp, 5701 hours, sells with JD 741 loader.

JD 4320 (D), JD 4020 (D), JD 3020 (D), tractors.

2015 JD 855D Gator, only 228 miles

2010 Palomino Bronco model 1251 6 1/2' cab over pop up camper

Truck / Auto / Trailer

Hay Equipment

2009 Schulte FX180 15' Rotary Cutter

2012 Exmark X Series 60" cut, 150 hours

Timberwolf TW-3HD 3pt. log splitter

Hardy 180,000 BTU wood burning furnace

RV Shelter / Utility Building / Van Box

Livestock and Farm Related

Tools and Shop Related


Ted and Bonnie Mann Estate
Janet Mitchell, P.R.
Jo Fortney, Estate Attorney

Edina, MO

Details Soon!