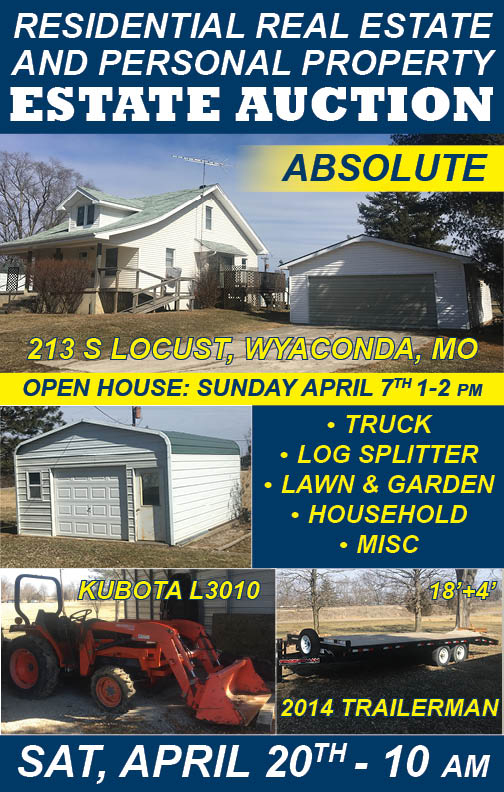 Click Here for New Photos Added 4-17-19


ABSOLUTE RESIDENTIAL REAL ESTATE
AND
PERSONAL PROPERTY ESTATE AUCTION



NOTICE: Clark Co, Rte A north of Wyaconda is closed for bridge replacement. Use Scotland Co. Rte A (Arbela Jct on hwy. 136) go south to Rte E, then East to Wyaconda.

Selling a well maintained 1 1/2 story, 4 bedroom, 2 bath home, wood furnace, detached 2 car garage with additional climate controlled workshop, 20x16 carport / garage. Many nice updates.

Added 4/7/19 - 2000 Cadillac Deville, 90,000 miles

1995 Chevy 2500 4WD Pickup / 2014 Trailerman 18+4 deck over trailer

Kabota L3010 HST, 4WD (D) Tractor w/ Hyd. loader, 2652 hours

North Star 37 ton Log Splitter, as new

Lawn & Garden Equipment

18 x 35 Carport - to be removed

Household / Misc.


Bill & Janet Druck Estate

Oak Hills Title Company, Closing Agent

213 South Locust Street, Wyaconda, MO